Creation Over Credentials | Fuck Your Art Degree
A look back over a successful weekened at House of Iconoclasts's, "Fuck Your Art Degree" — the first of many more "outsider" art shows to come in the Fort Worth art scene.
Audrey Rodriguez | 11 March 2019
IN THE BEGINNING…
Shipping & Receiving Bar (S&R) was a packed house last Saturday night, March 2nd, for the culmination of Fort Worth's "outsider" art, brooding music, and fanfare for the first event of its kind, "Fuck Your Art Degree"(FYAD).
Tightly wound around the halls and corridors of S&R were the art pieces generally scoffed at by traditional art galleries for their alleged contentious, lewd and lurid, even horrific nature. But at this art show, these same labels were espoused with a more celebrated connotation. I knew it was a different kind of show when in rounding the corner from the main hall, I was confronted with a looming hot pink, hairy monster head with legs, comparable to Jim Henson's Sweetums. The influence of pop culture was evident as well. Pop icons Catwoman, Sigourney Weaver as Ellen Ripley in Alien (1979), Leatherface, and Michael Jordan in his best work Space Jam (1996) were all in company. Other pieces may or may not have come straight from the depths of hell, the kinds of depths where blood and guts and two heads with skull contusions dwelled and sold for $50. One thing was clear, all of the pieces, whether dealing with raw sexuality in photos, facing fears in acrylic or quirky, slice-of-life video animation, represented some element of a human truth.
Curator/ideator of FYAD, Natalie Price, known as Flesh Pinata in the art world, displayed her own collection of self-portraits and others in watercolor. Together, Price and the rest of the members of the art collective, House of Iconoclasts, worked since November of 2018 to market, plan, and execute FYAD, which also featured original musical numbers by host Mark Mayr, known to her friends as Frida Monet, performance art by vaudevillian variety troupe Avant to Leave This Planet, and music by The Fibs, HXXS, and Rosegarden Funeral Party. "Borne out of frustration" from the mistaken notion that an artist is not talented nor worthy of gallery space unless backed by a degree, the idea for FYAD began, as many of our frustrations do, with a venting episode by Price on social media. From there, it went viral.
"I kind of felt embarrassed by it," said Price for jokingly finger-painting, "Fuck your art degree" on an Instagram story one night after a "passive-aggressive, mental tantrum." Most of her friends suggested turning it into a sticker or a T-shirt, but her roommate and one of her best friends since the first grade, Wesley Kirk of Vision & Verve, suggested that she turn it into the name of an art show. Little did they know that a showcase which was originally supposed to have 10 to 20 artists would attract a total of 83 different artists with 322 original pieces by the time doors opened at 6 p.m. on Saturday night.

AND THE EARTH WAS WITHOUT FORM, AND VOID...
While many artists reached out to Price through social media, she specifically sought out Brian K. Jones of Dallas duo, Chuck and George. A fan of their artwork since a friend of hers convinced her two years ago to attend a spur-of-the-moment Halloween party at their house, Price was grateful to have them showcase at FYAD. "You have to go to this party, their house looks like Pee-wee's Playhouse," said Price's friend. This past year, she says she messaged them because she wanted to get to know them personally and get invited to one of their Halloween parties. Price ended up auctioning off one of her own pieces at their show, and that's how she, in-turn, invited them to the FYAD showcase.
With the exception of artists like Chuck and George who have created their own platform to showcase their artwork and some degreed artists who are familiar with the gallery life, "Half of these artists have never shown their work before," said Price. "We seem to only know a handful of them (talent in Fort Worth) just because that's either what the magazines here want to talk about or whatever, and they're all great, they're talented, but there's a lot of people underneath the surface that aren't showing their artwork because they think it's difficult to get in or they don't have a degree," Price said, who fits into this category herself. Accepted into a program at the Modern Art Museum of Fort Worth (the Modern) during high school, she says she realized how pretentious it all seemed and how expensive art school really was. Price says she stopped painting after high school at a time when she felt that it wouldn't pay the bills, people wouldn't want to see her work, and that it just wasn't worth putting in the time.

"There's just a lot of steps you have to take to get your work shown, and it's kind of disheartening because everyone here is so talented... it just sucks that they feel that way," said Price.
Two years ago while looking at some of her older watercolor portraits, she decided to get back into painting. She says she was excited to see the art scene in Fort Worth, but that she would go to an art show for a mere ten minutes and then ultimately leave. "No one really wants to talk to you unless you're the 'cool kid' or something," said Price of the discomfort she and many of her friends felt at most art galleries. That discomfort was another catalyst for the show.
"I want to put on a show and have my friends here too and just have everyone be nice and have a good time and listen to music that we want to listen to and just have like a cool, chill kind of party."
AND THE EVENING AND THE MORNING WERE THE FIRST DAY…
Sean McGuire met Price during high school. He was another artist chosen to attend the Modern's teen program. They stayed in touch via social media and reconnected at a show in December where McGuire asked Price to be a part of FYAD. "I like the idea of small," said McGuire whose main medium has been video-animation. He showcased a collection of videos from the last seven years including two recent music videos, a puppet video, and small, hand-drawn short-story cartoons meant for Instagram. "For the past so many years, everything got bigger, bigger, epic, epic, so I was like, 'we can tell small stories, we can just tell little, abstract, quirky stories.'" During this interview, an enthusiast approached him complimenting the Taco Bell/Taco Bueno short. You have watch it to find out more. These and other animations can be found on McGuire's website.
Jayce Wierzbicki heard about FYAD through word-of mouth from Doc's Records, one of the sponsors. Wierzbicki, who doesn't have an art degree, said, "Art's not really something that you can learn from a school, it's something you just learn by yourself, to me." His art is anything that reflects cult classic movies, horror, and neon from the 80s. He likes sculpting, and his primary medium is expanding foam which helps him to create these large-scale masks. Halloween and horror conventions are his main sources of commission. Many of the replica characters he's made have been Leatherface and Killer Klowns from Outer Space.
Noah LeGrand was a film student before he began drawing. He's self-taught, learning to draw by hand then digitizing it. "I thought it was going to stay mediocre forever," said LeGrand, but over the past two years, he's confident that his handy-work has been improving significantly. He describes it as "silly wrestlers and people from movies," like Sigourney Weaver as Ellen Ripley in Alien (1979), which he created for International Women's Day in 2018 (March 8th). He says he's been a huge fan of her since he was a boy.
Jessica Beatty is one of the members of the House of Iconoclasts. Like many of the other artists at FYAD, she is a self-taught artist. Her main medium is glitter and says she's trying to give it another meaning other than how it's associated with crafts or kids' artwork. She likes juxtaposing the medium with darker themes. "All of these artists are just showing a more, maybe truer side of themselves than what they may be able to in a gallery," said Beatty.
Wesley Kirk can be considered the co-creator of FYAD for suggesting that Price's tagline, "Fuck Your Art Degree," be turned into a full-fledged art show. Her friend since they were four-years old, he, possibly more than anyone, understood Price's occasional frustration with the art scene, which positively manifested into FYAD. "A big part of this show is her doing that for other people, showing that there is a place for weird art," said Kirk. He helped Price handle the logistics — making the poster and an Instagram post for each of the individual artists. The painting he showcased is part of a series in which he traveled around the country to different desert landscapes, doing self-portraits in a space suit. "This is the dumbest thing I've ever done," said Kirk, referring to how he was a mile underground somewhere in the Grand Canyon in a completely pitch-black cave in an airtight space suit. He said he was worried about not getting enough oxygen, but the biggest problem ended up being the humidity. "When I closed the visor, it immediately fogged up and I couldn't see anything; I couldn't hear anything; it was pitch black. By the time I freaked out enough and ran out of the cave, it was dark... and I could hear coyotes in the very near distance. I was running to my car and by the time I got there, I heard this low growl behind me."


Grace Pham, who is also a full-time graduate medical student, has no formal art training. She is primarily a photographer but has been venturing into more interdisciplinary work, focused on self-portraits and still-lifes. "Walking into the show, I felt really honored because they were right up front," said Pham, referring to her light installations, "Baby Banana" and "Queens Cake." Pham stuffed about 2,000 plastic babies that she ordered off of Ebay into food, which turned into a 15-image series, originally showcased at 500X gallery in Dallas back in November. "What if food was filled with just tiny babies? It's kind of a disturbing image," said Pham, telling me about how the pieces were inspired from a time when one of her classmates from New Orleans brought a king cake to school, but didn't put the plastic baby inside because she thought it would scare people.
"As a capitalist society, we kind of eat our young. I hate intergenerational warfare, but I do kind of feel like the baby boomer generation has kind of taken away a lot of resources and so now millennials like me are kind of left struggling; we have to go to school forever; we have all sorts of student debt; we're still living with our parents, that sort of thing."
Pham, a first-generation Vietnamese-American, said her parents, refugees that fled from the Communists, thought there was no room for an arts education as a viable career, which is how she ended up in medicine. "This," said Pham, referring to her art, "is what I do to stay happy and fulfilled." Speaking to the theme of FYAD, Pham said, "I knew a lot of artists that had art degrees and a lot of artists who also didn't have art degrees and I mean to me, I didn't really distinguish a significant disparity between the quality of their work. I felt like in the end, most of it is about ideas and personhood, and school is great because it can help you refine your technique, but I definitely don't think it's necessary."

Alec DeJesus doesn't have a formal art degree. He just moved to Fort Worth about three months ago and met Price at his first show in the city – Art Tooth's "Family Reunion." DeJesus said his artwork, "represents these figures who have escaped hardship and fought through it; they are these proud figures, whether they look somber or not, they are tried and victorious."
"For me, it's always been a point of contest, if I'm gonna either take this gamble and go into this fine art field, the gallery art field, the mural field without a degree and just chase it with the business sense that I already do have. It's paid off very well," said DeJesus, but at the same time thinks that a degrees can definitely prove its worth and has nothing against people who have them. He hopes to get more heavily involved with the Deep Ellum arts scene in Dallas and some of the larger shows in Fort Worth. He's talking to everyone he can, which he refers to as "shot-gunning my networking," and getting to know the scene. "As the new guy, that's kind of what you should be doing anyways; it's like I'm the new kid in middle school and everyone wants to know what I'm about," said DeJesus.
Nick McClanahan is another member of the House of Iconoclasts who primarily helped Price with getting Shipping & Receiving as a venue and booking bands. His brother, Jason McClanahan, had a few pieces in the show. McClanahan said that he and the House of Iconoclasts already have a few ideas for the future of FYAD and shows similar to it.
Andria Matlock likes to find black and white photos of burlesque dancers or pin-ups from the 40s and 50s online and turn those into mixed media pieces that represent the zodiac signs. She creates her colorful collages in a purely digital space. One of the pieces in particular was inspired by the song "Proserpina" by Canadian-American folk-rock singer-songwriter Martha Wainwright. The reason for pin-ups is, "Their body type; they are fit with a softness," says Matlock.
Ellen Hoffman's artwork is mostly mixed media, acrylic wash, and pen and marker. "A lot of it comes from making fun of sexuality," said Hoffman. Her pieces that feature a cartoon Catwoman were inspired by Hoffman thinking it was funny that cats are often the most sexualized animals.
"People associate cat movements with sex for some reason. I thought it would be funny if it was just like cats doing things that cats do, only with feminine imagery, so it's like the absurdity of this anthropomorphic character doing cat things," said Hoffman. As for the theme of FYAD, Hoffman said, "When I was in college, I had a weird experience where I felt like if I didn't do a certain type of art, I wouldn't be taken seriously and found myself trying to find meaning in things that I was doing that did not really mean anything. I just wanted to be taken seriously if I was professional artist, but what I really loved to do was make myself laugh," said Hoffman. "This is the art scene that's important right now. A lot of people say that they really don't understand art or they're not sure what they're looking for. Well, 'you're kind of looking at one style and you need to kind of go and experience the low-brow scene and see what's going on there and realize there is a lot more than what they think there is.'"

Steve Steward said that his artwork has never been featured in a show before FYAD. He draws characters he encounters in life on anything he can find like litter and the blank sides of drink coasters. One of his finished products at FYAD featured a "hipster" Steward encountered at work, who said, "Oh, I don't watch TV," as the man was glued to his phone watching Youtube. The incorporation of Pabst Blue Ribbon into the drawing fit the character and story he was telling with the piece — the story of people being blinded to irony every day. "My idea is that everyone has the potential to be terrible, so no matter what, we're all kind of ugly at times, and that's kind of why they look like zombies or skeletons."
"I don't take myself so seriously, and I think that my art reflects that," said Steward, explaining his fit with the theme of the show. Steward, also a musician and writer, poetically said, "The art show itself is kind of light-hearted and kind of trying to take the wind out of the sails of the art world, like not to take it so seriously."
JESUS SAID TO HER, "MARY…"
Coming away from it all, the most resonating part of the night of FYAD was the gratitude everyone wanted to express toward the creators and ideators of the first-ever "outsider" art showcase and toward Price herself. Price, who quit her job as a hair stylist to focus solely on organizing FYAD, said she and the House of Iconoclasts were originally thinking about turning it into a quarterly event, but are now envisioning shows of this scale to occur about twice a year with smaller art shows happening several times throughout the year to keep the momentum of the message going. That message is this: "It's kind of more about the creation over the credentials. So, that's important to us too. I'm not really trying to super offend anyone and I think it comes off pretty cheek-and-tongue [sic]. A lot of people have been responding, they laugh at it when they hear it, which is good. But I just want to elaborate that although we're all punk kids and stuff, that's not our intention to smash other people. We want you to make art, the art that you want to make, and maybe that's not a lucrative thing, but I think it's important to follow your gut and to make the art that you want to do."
In a closing statement by Price, she said, "So, I think a lot of people relate to this theme, and it's not knocking down people that have art degrees because a lot of people in this show do have them, but they like the message behind it."

"GIVE THANKS IN ALL CIRCUMSTANCES…"
Natalie Price would like to thank the wrestling group Party World Rasslin' from Austin for her creative and entrepreneurial inspiration for the show. Price saw them back in November for a friend's birthday.
"It's kind of like if Gwar were wrestlers. They all just had these silly costumes and characters and back stories, and I didn't realize how far back they went. They've been doing this, five or six years, and they all write out these stories for the shows. They put up these installations that they put up themselves and the shows are free. They crowd-fund. The shows are typically five to six thousand dollars and they typically raise more than that. People are just hardcore fans of these people," said Price.
Price says she's already reached out to them about renting them out for a show here in Fort Worth and they sound like they're on board. She would also like to thank Kimberly Cecil, Mike Moffatt, Hannah Taylor, Viktor Villanueva for helping her install all of the artwork, the members of the House of Iconoclasts (Wesley Kirk, Jessica Beatty, Kari Drummer, Kit Hart and Nick McClanahan), the artists, Shipping & Receiving Bar for hosting the event, and all of the sponsors for supporting the bands.
You can find more about the House of Iconoclasts and a complete list of the featured artists and sponsors from the FYAD zine on their website and Instagram feed.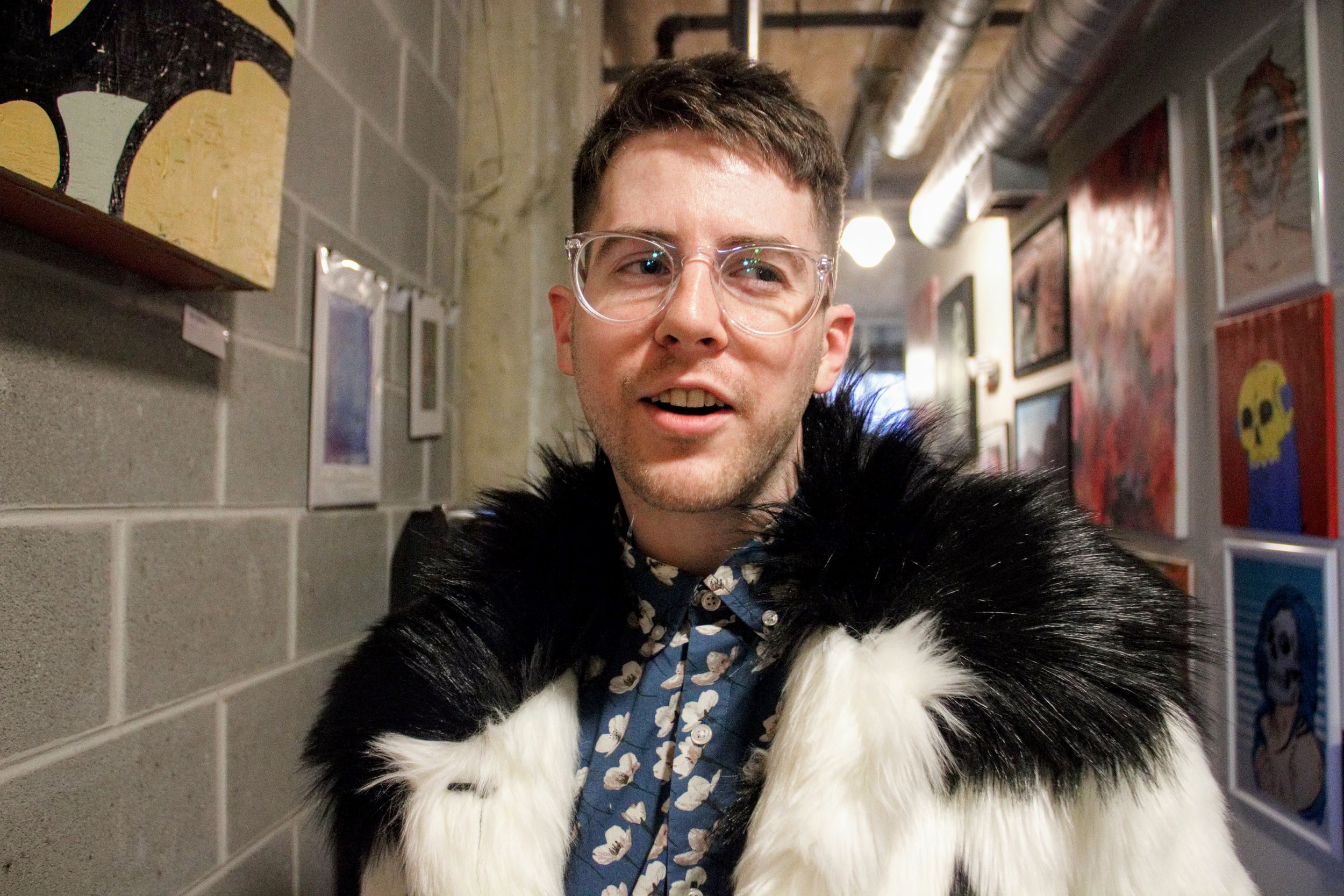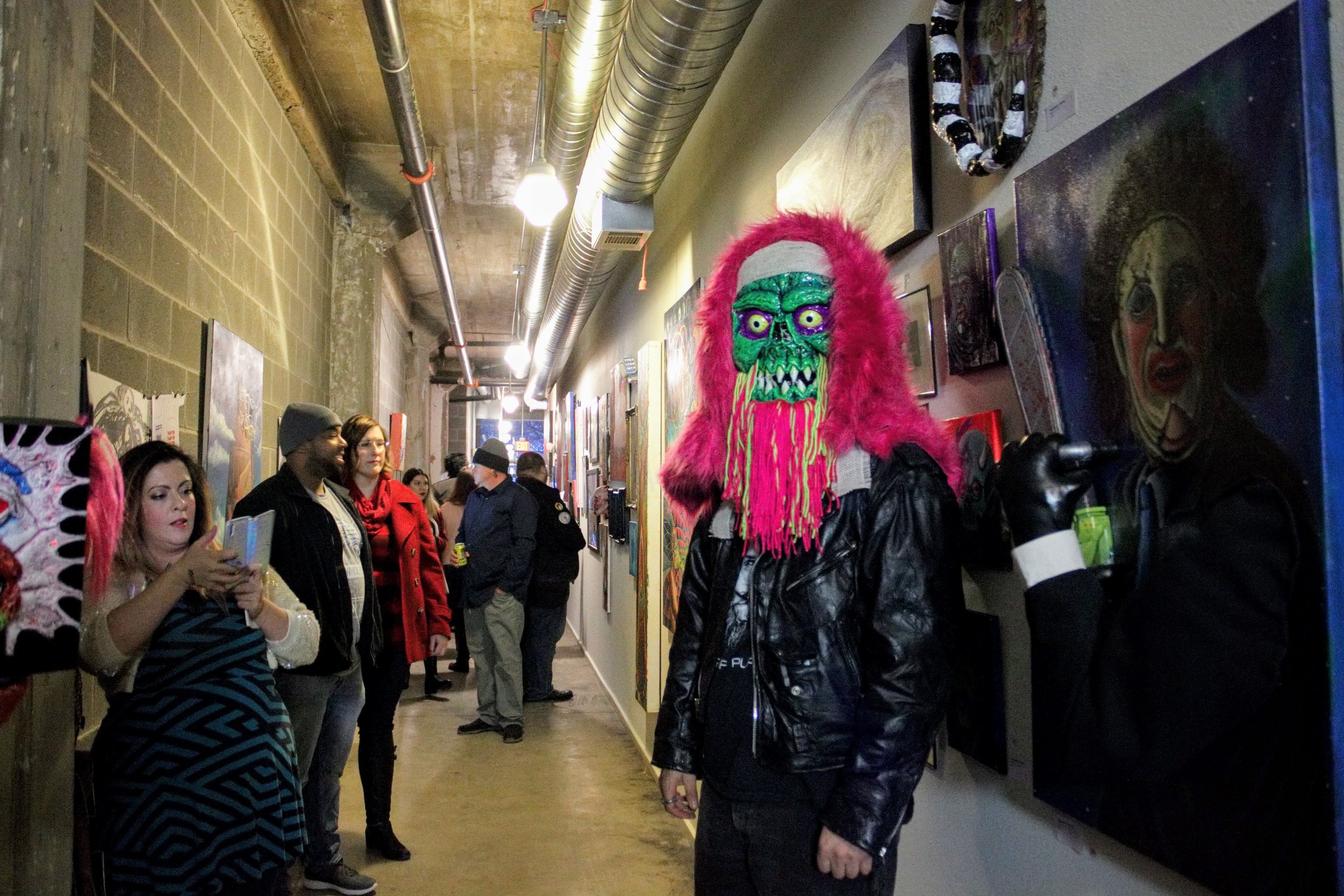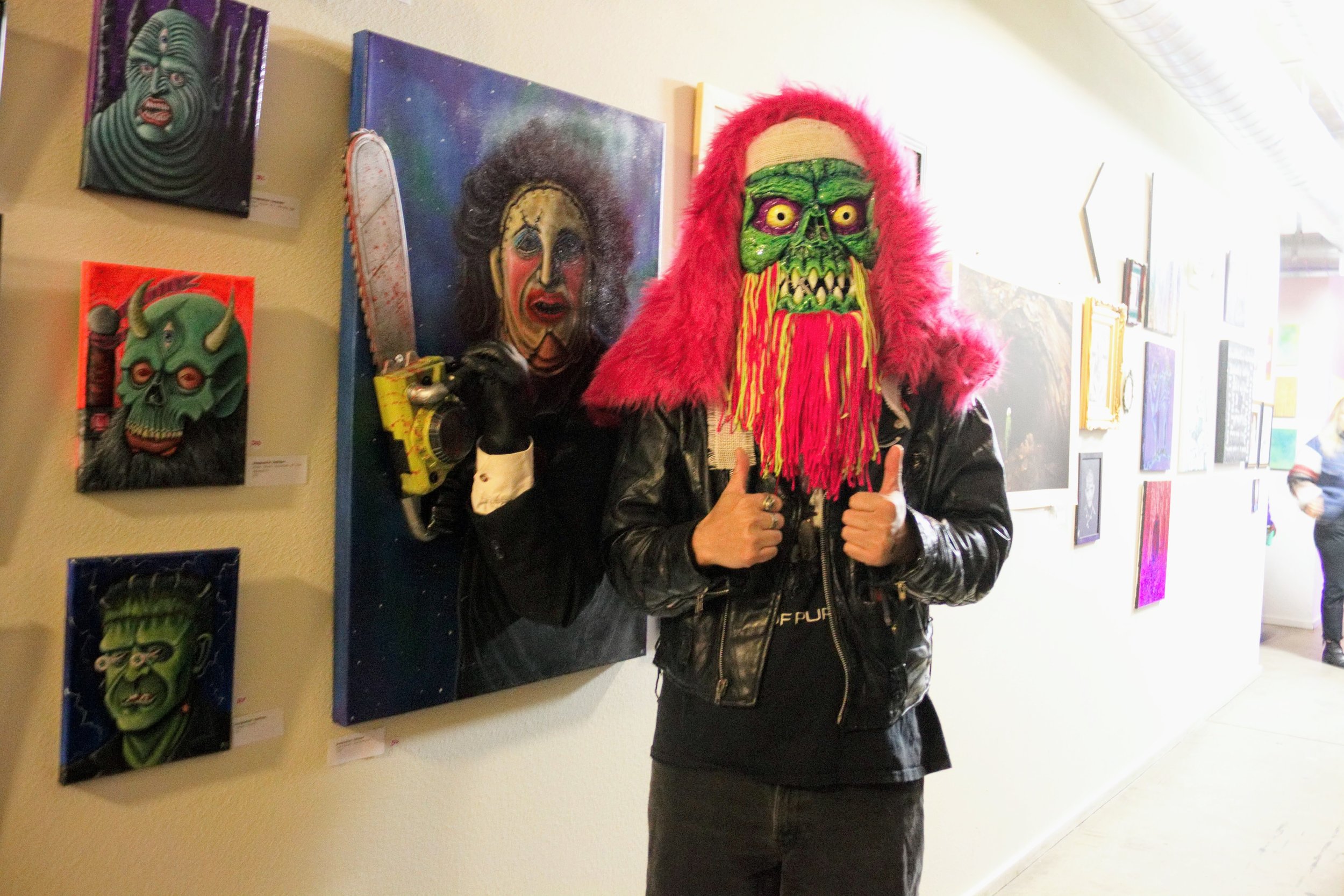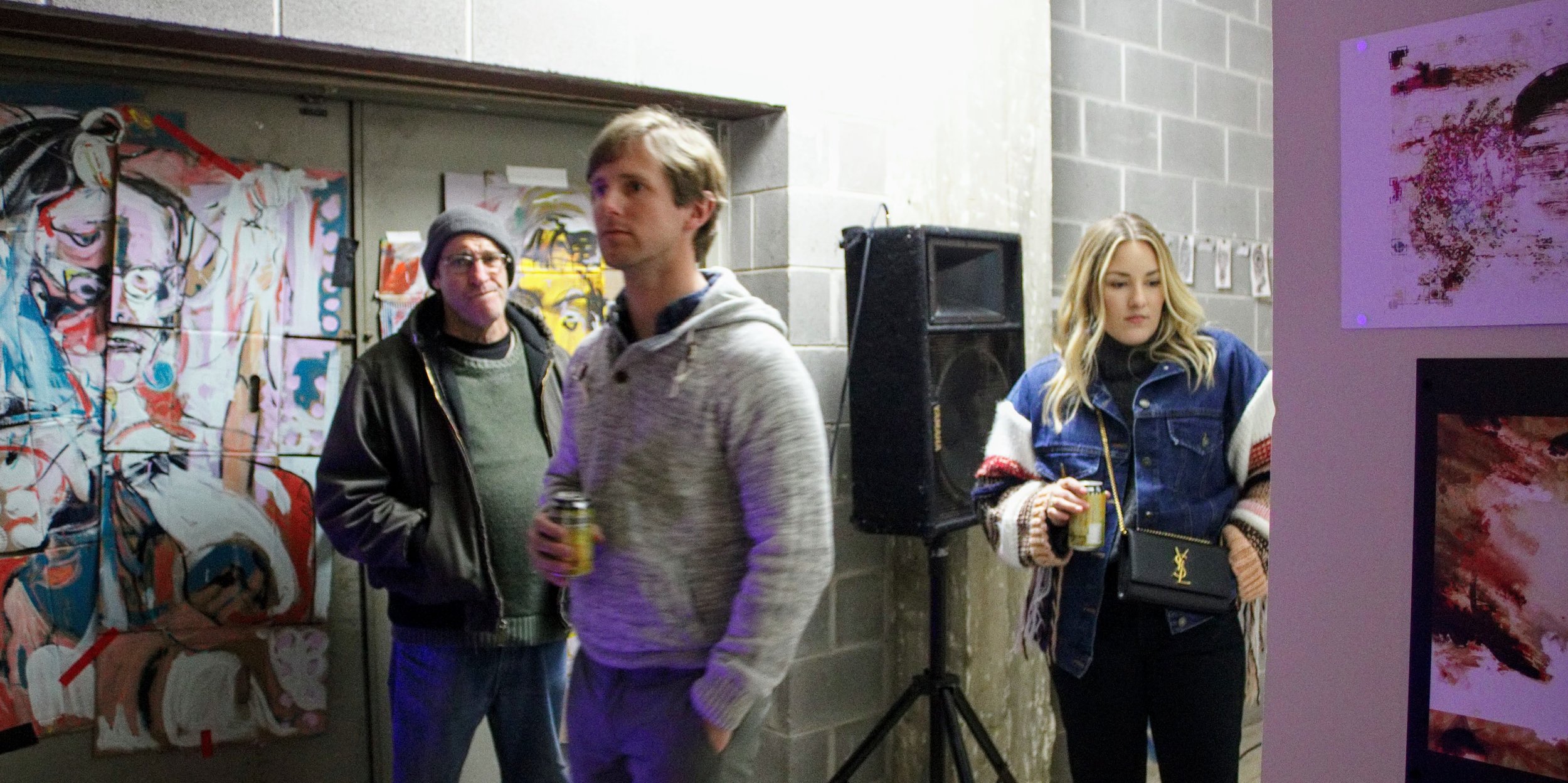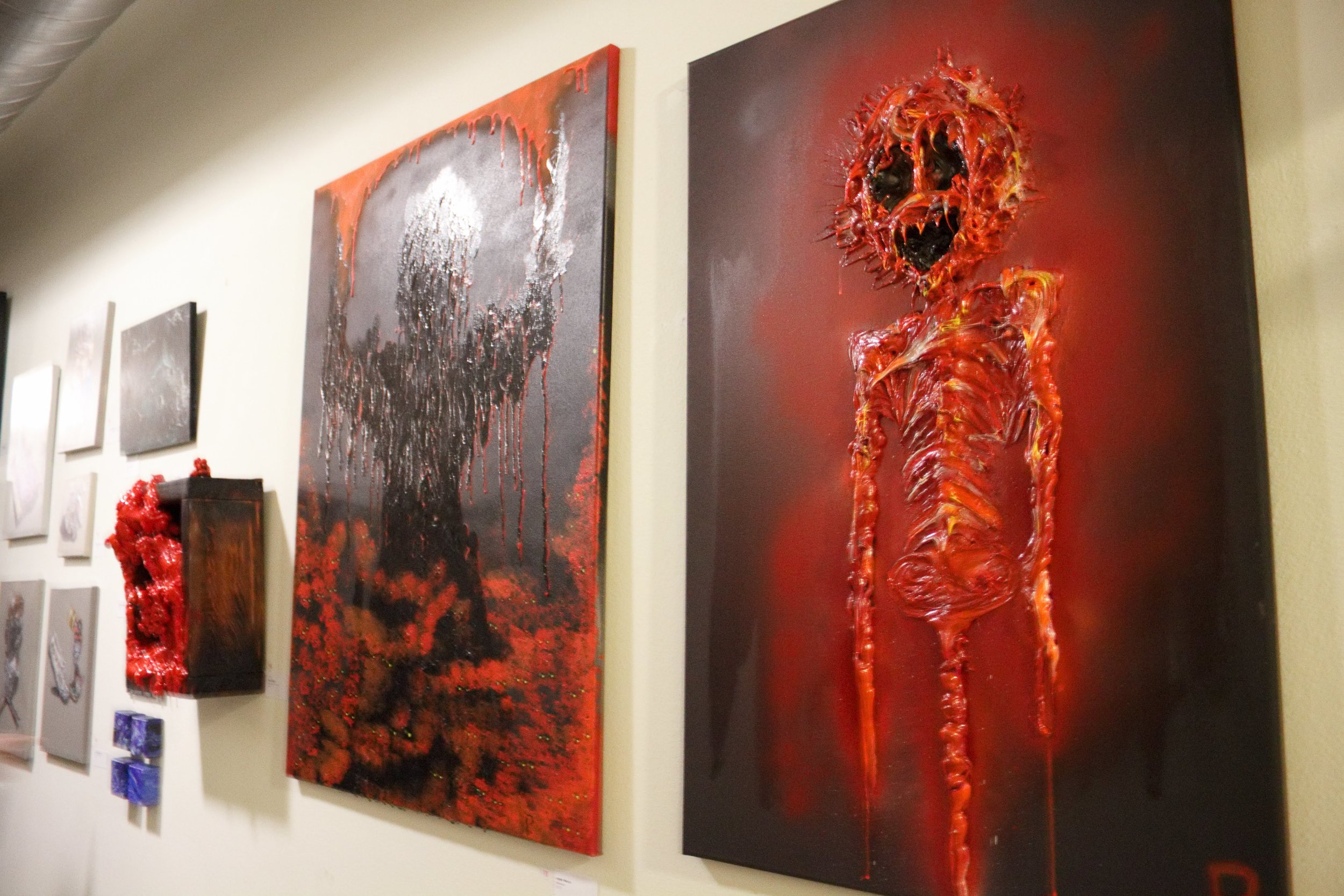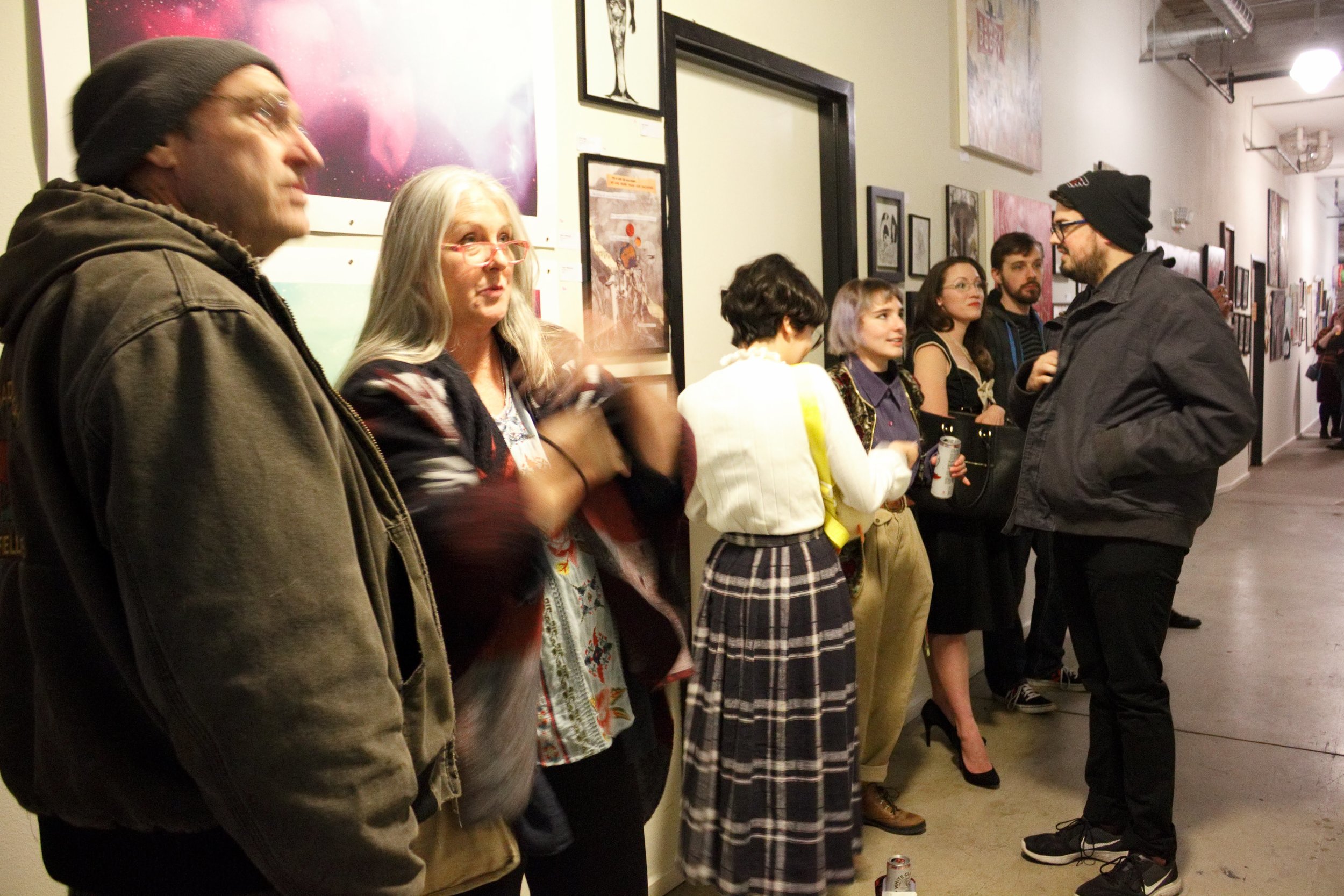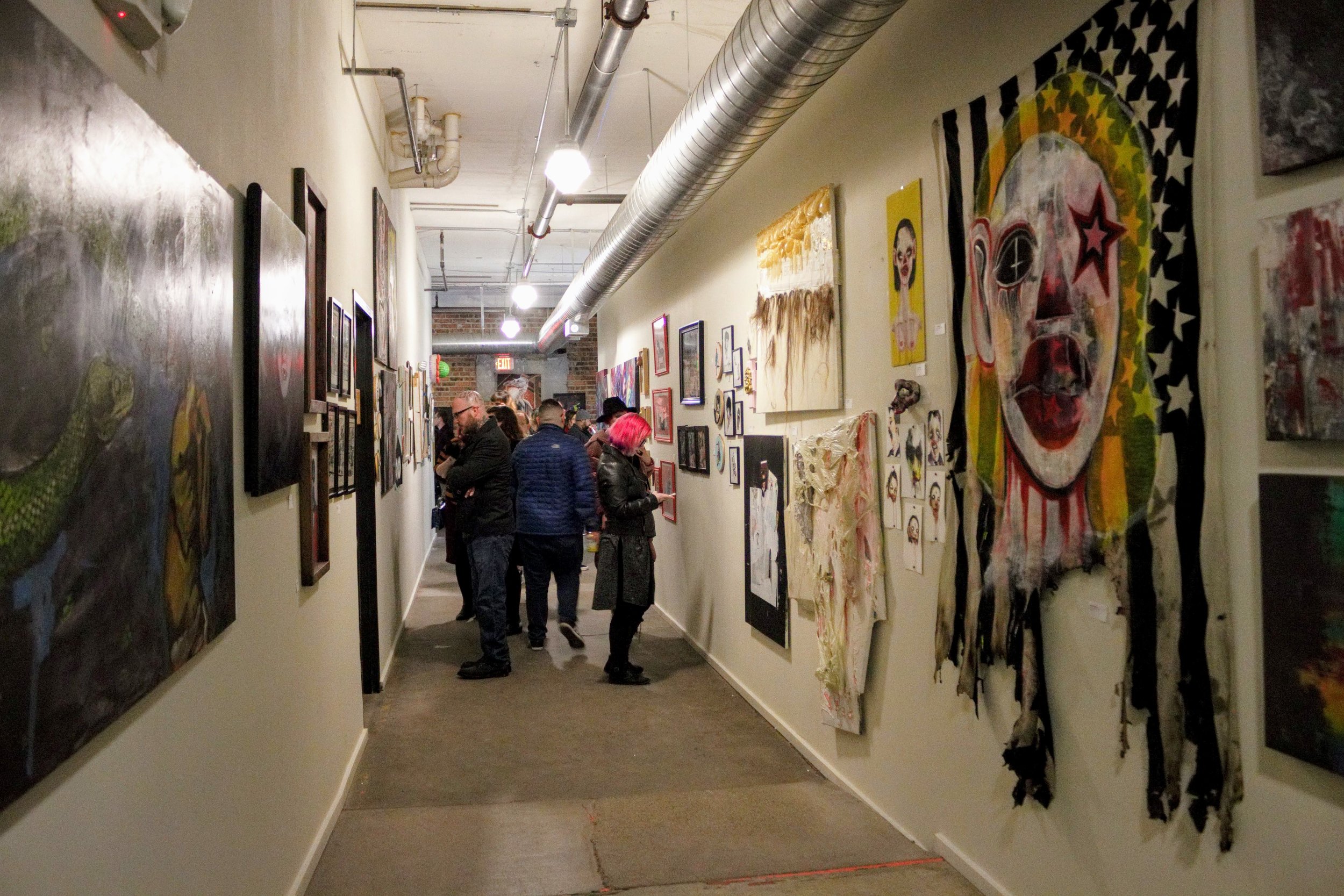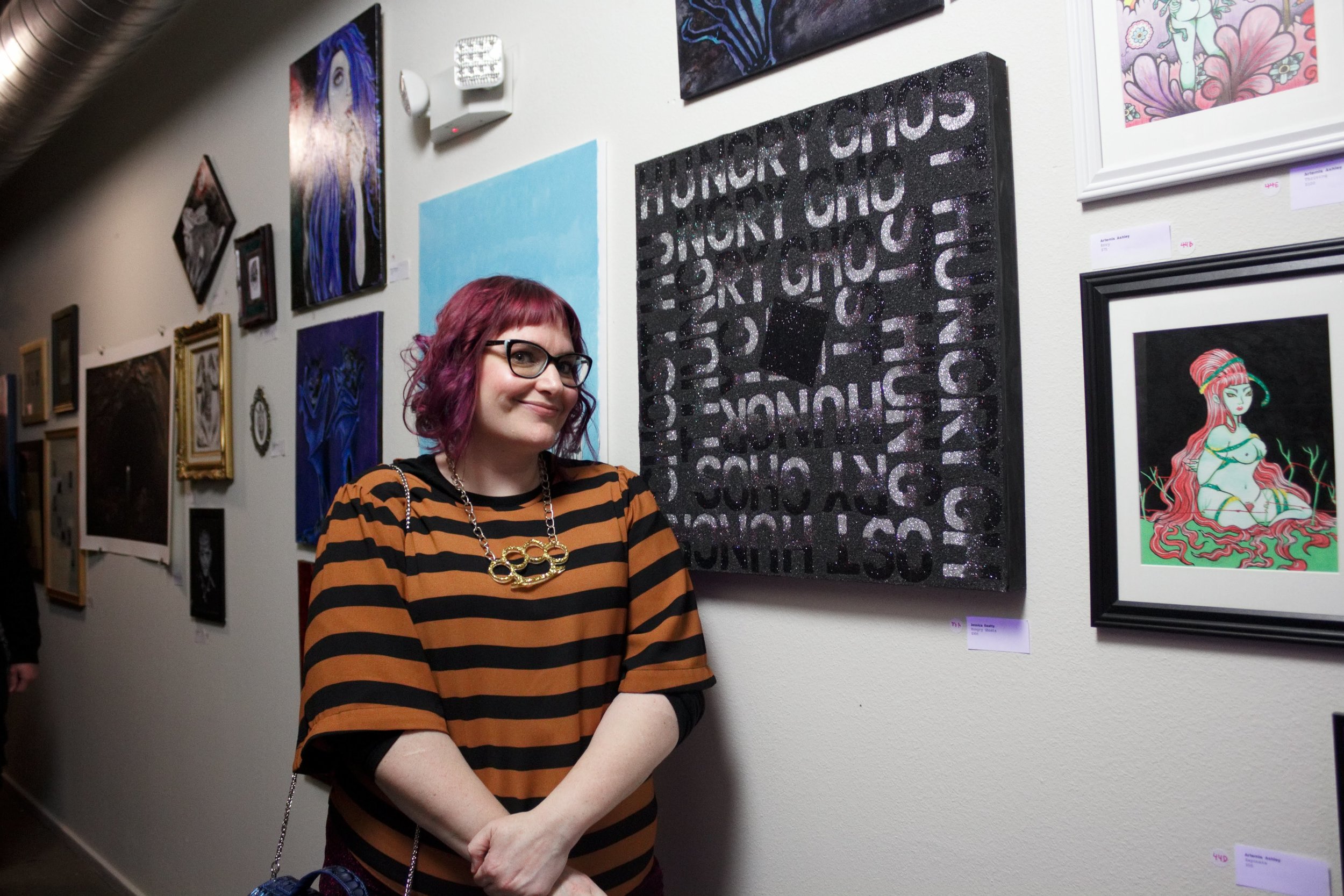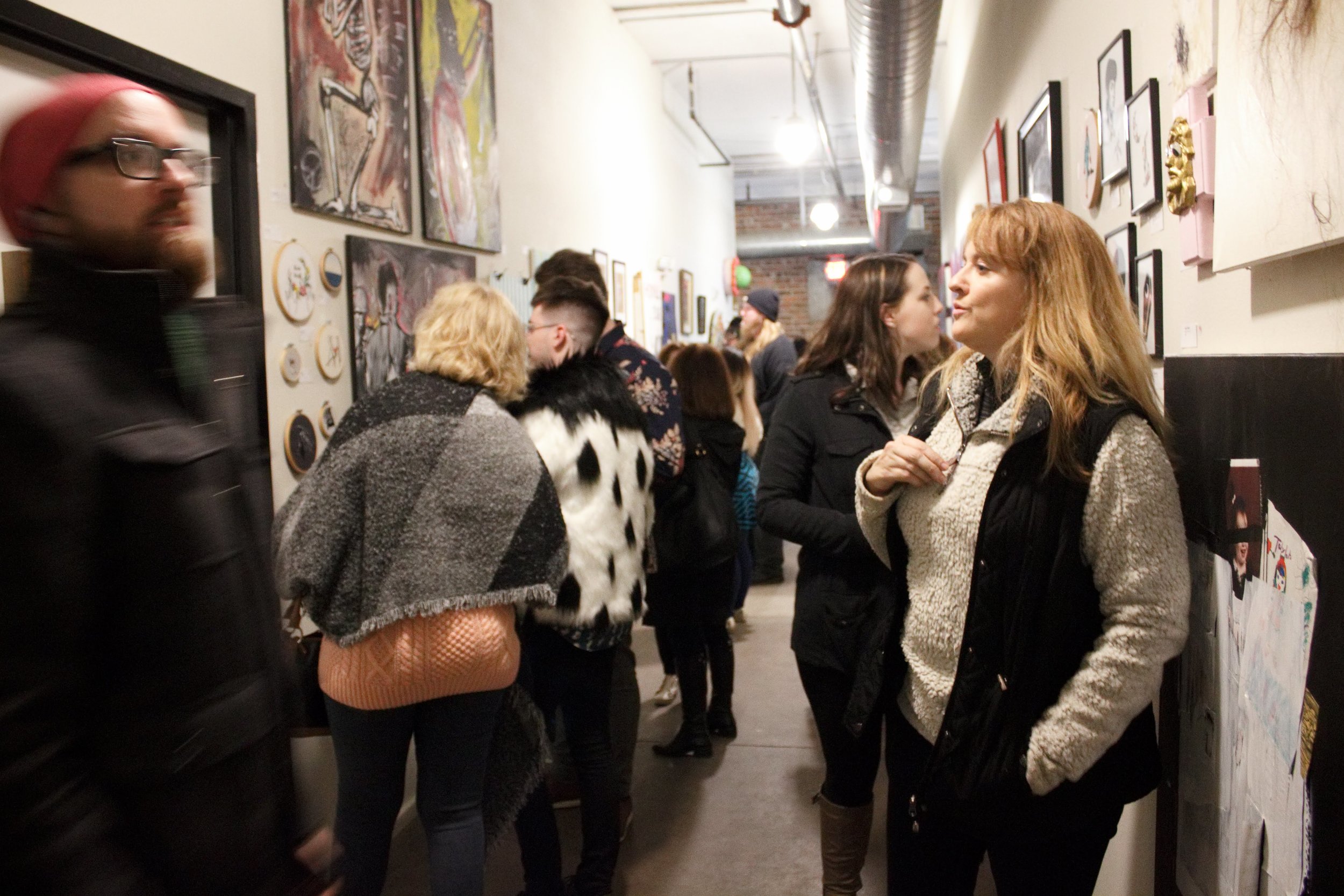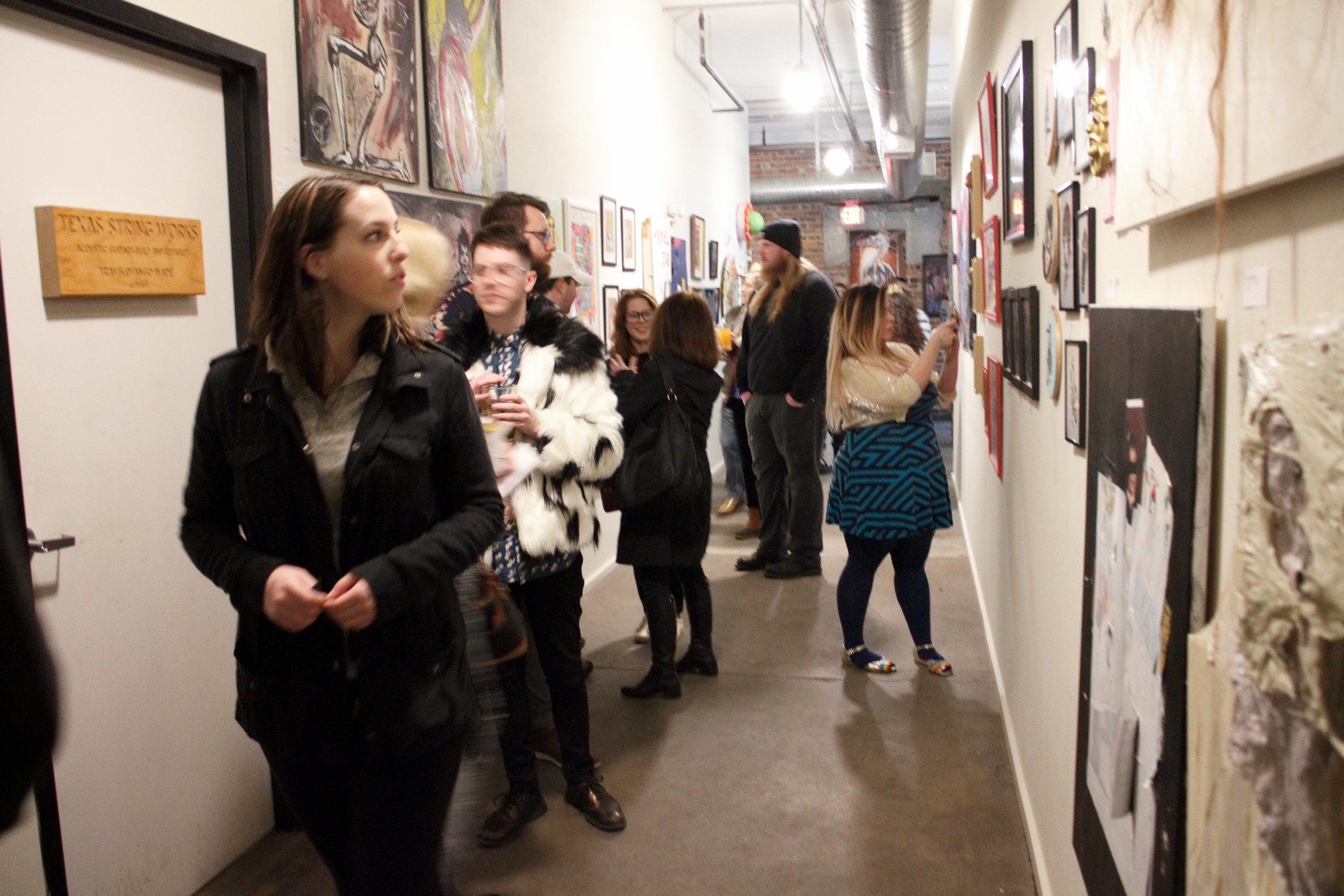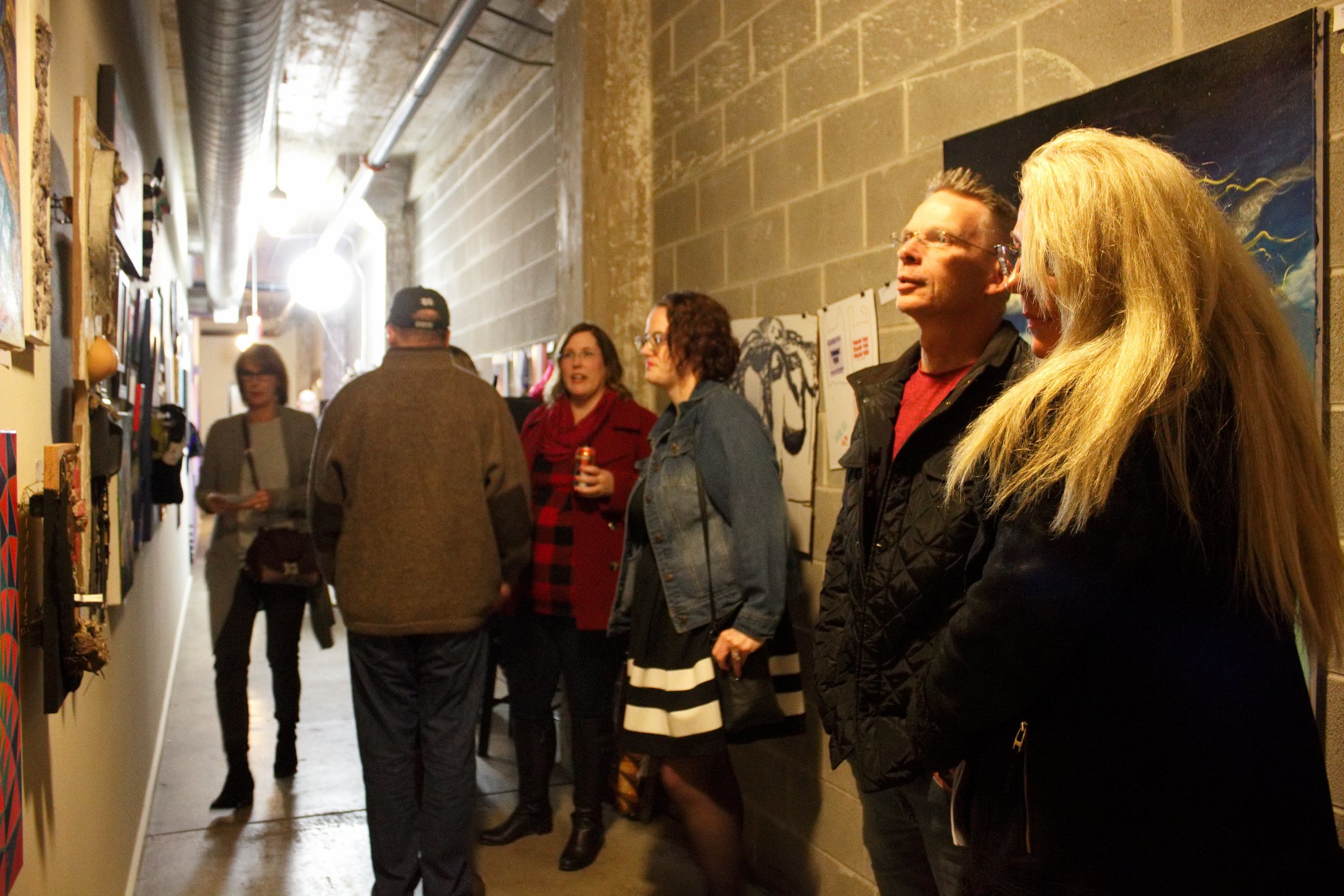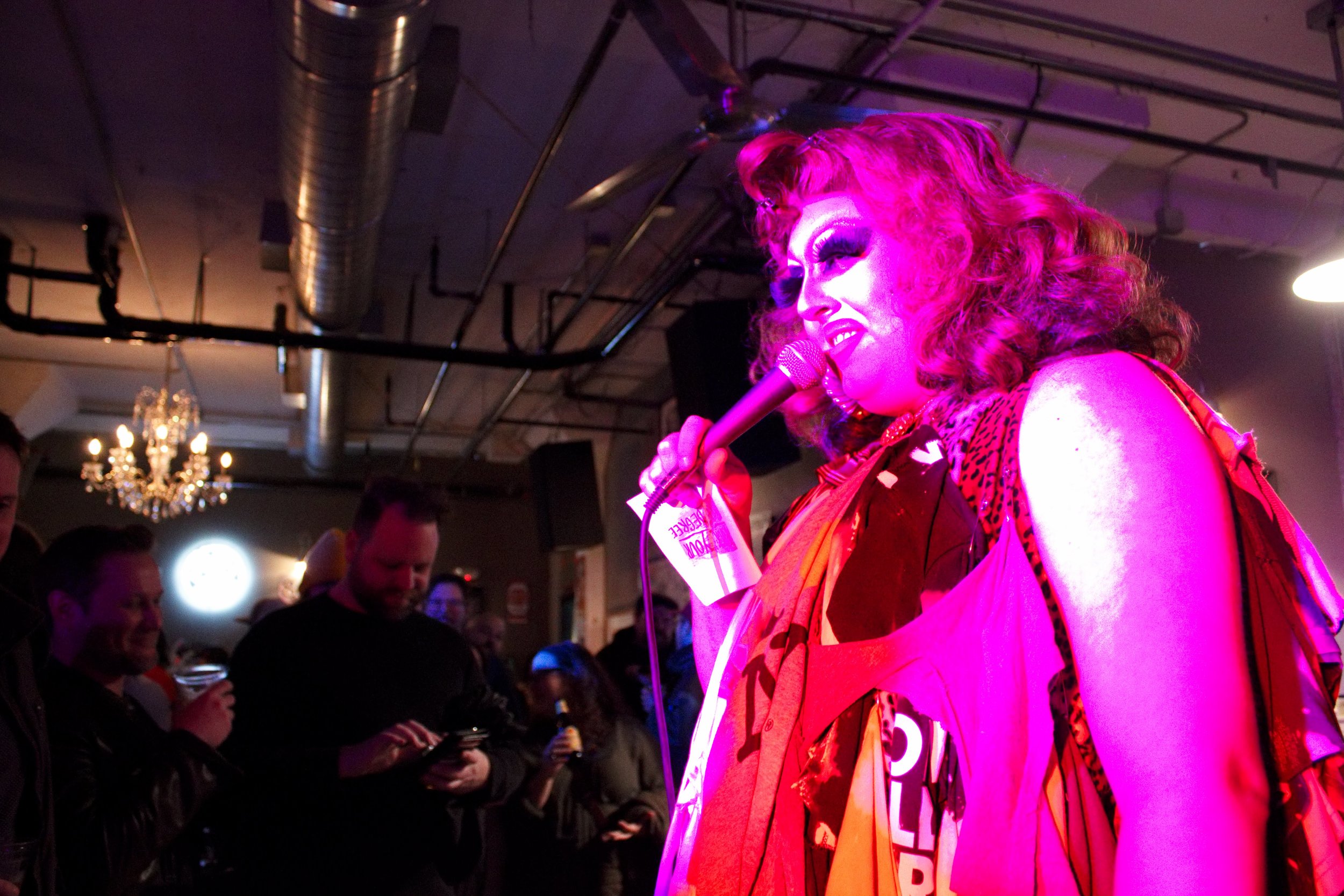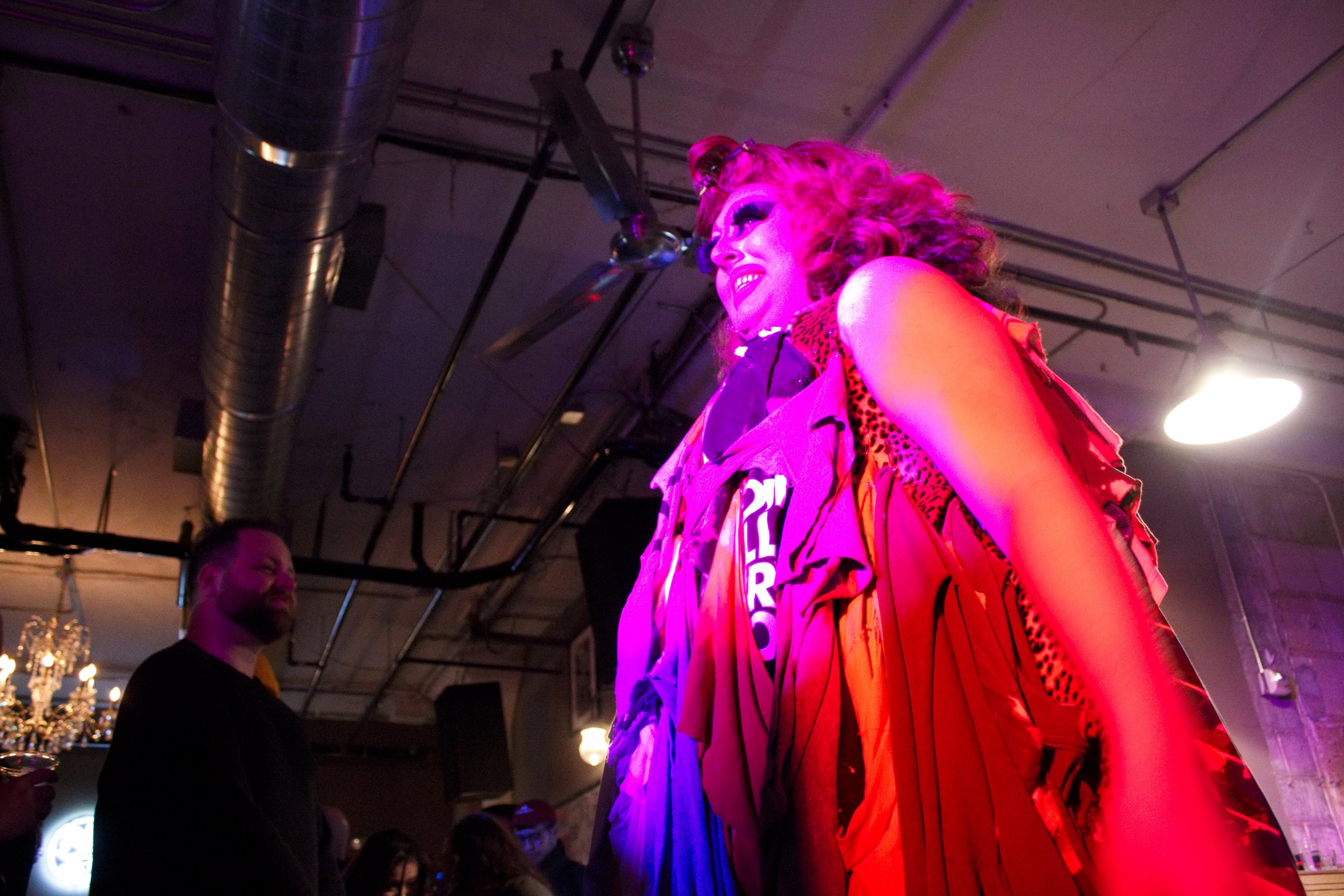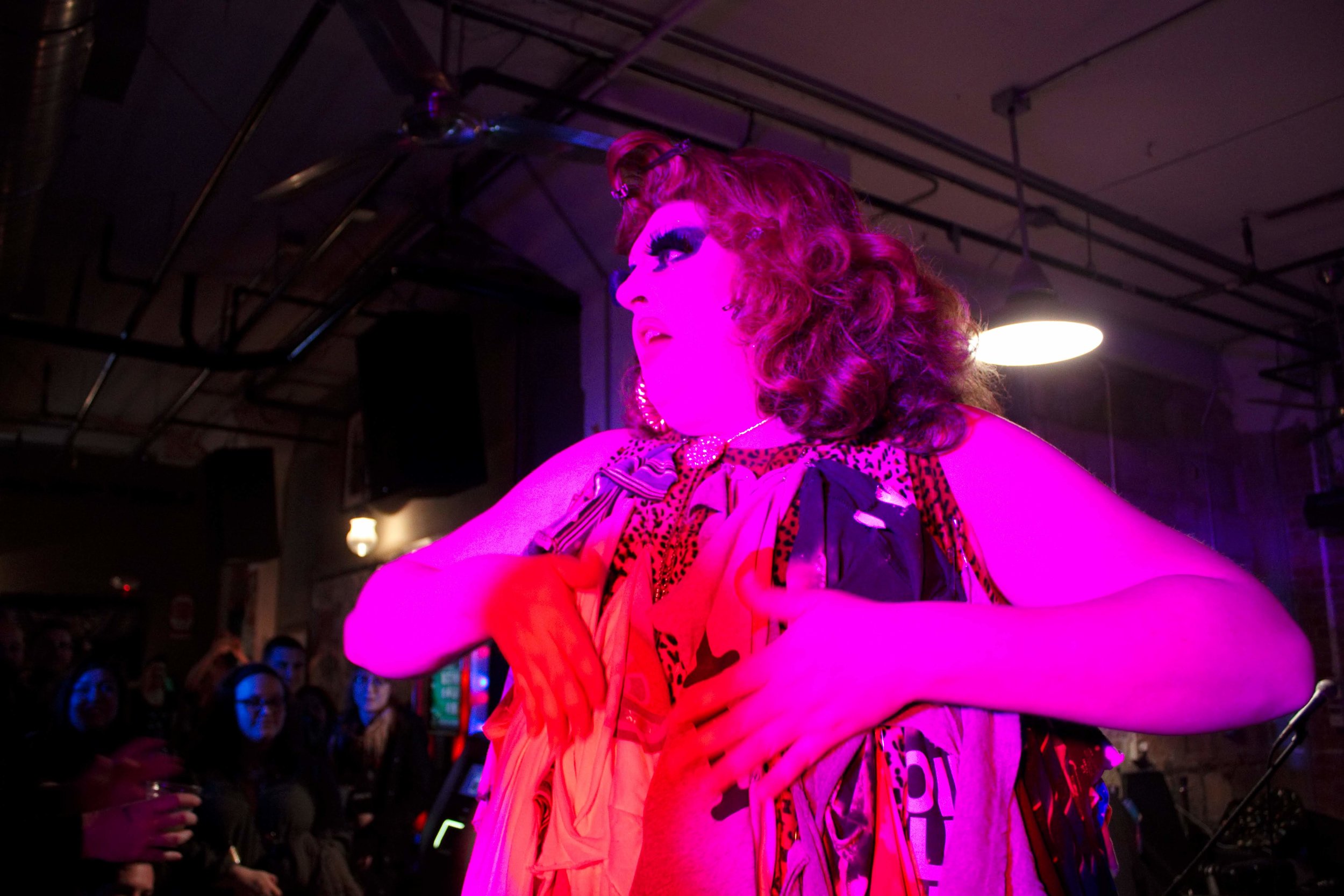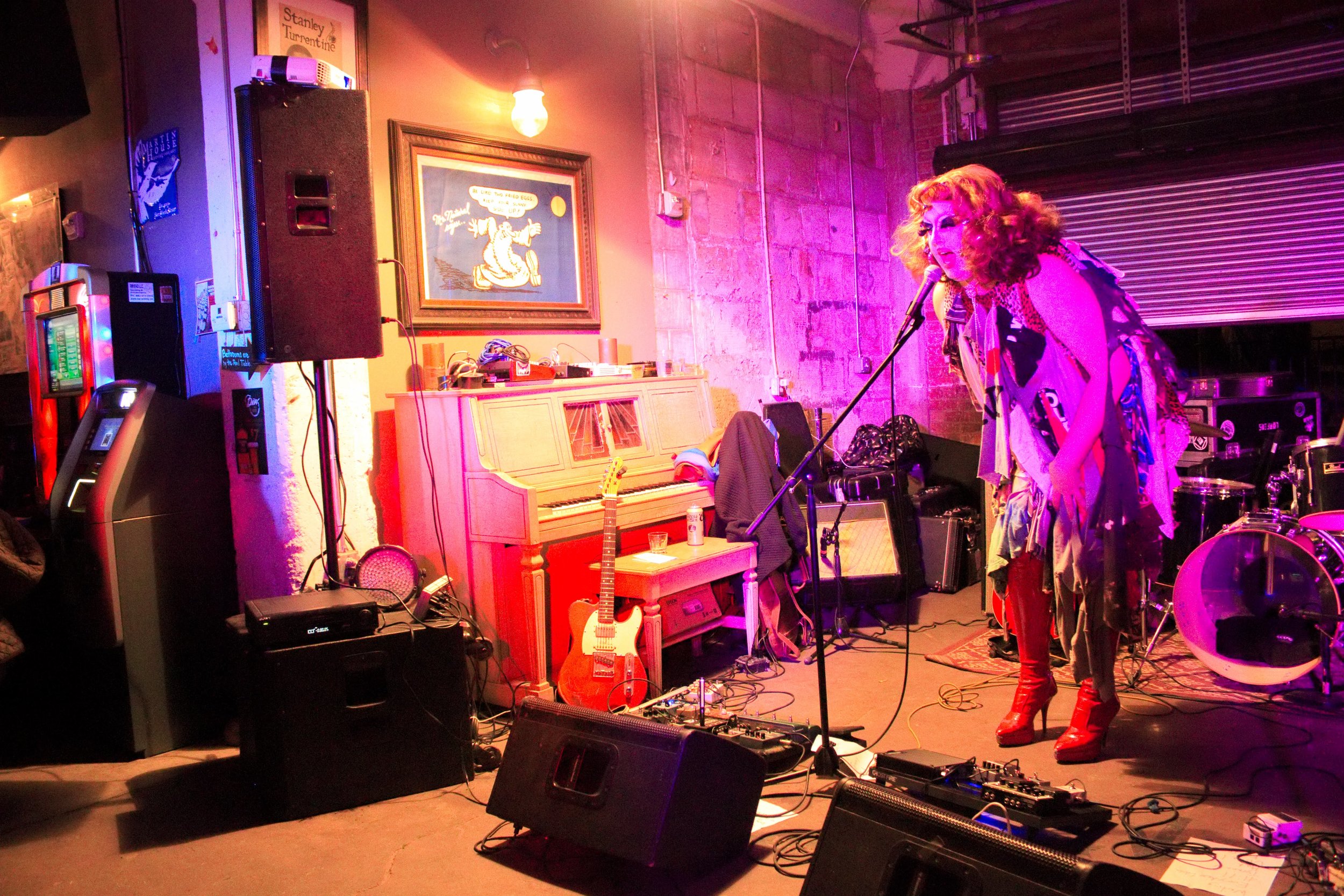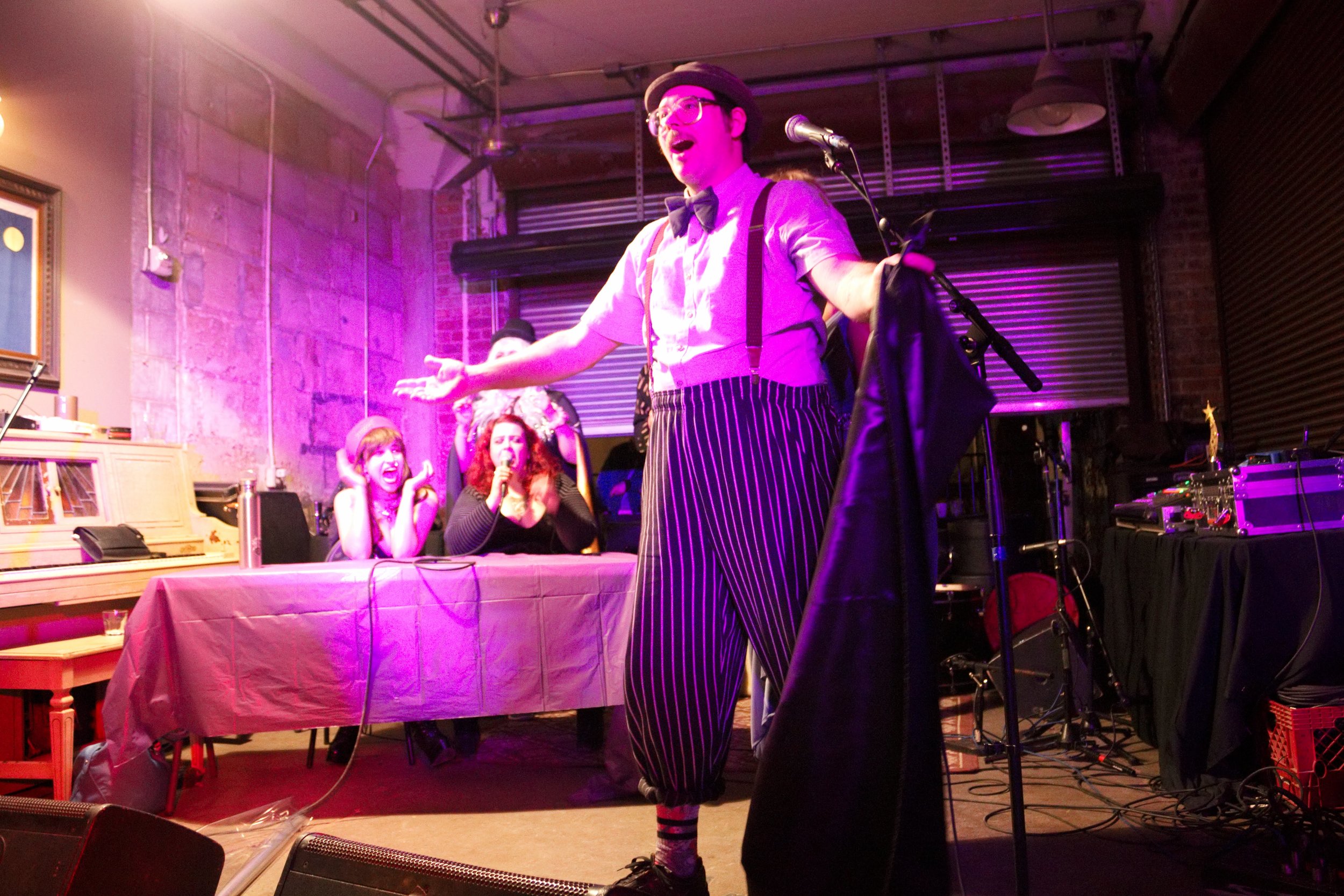 Connect with House of Iconolasts
Audrey Rodriguez is a freelance writer in the DFW area who has contributed to publications Central Track, Dallas Observer and Fort Worth Weekly. She started writing record and show reviews in Austin, shortly after graduating from undergrad at The University of Texas where she studied film and human development. A teaching position brought her to the DFW area and now, she is finishing her Masters degree in Strategic Communication at Texas Christian University. With a mindset for advocacy, Audrey's chosen currency in life is others' stories, especially those shrouded from the light of day in one way or another by some political agenda. Although her first passion will always remain with the arts and entertainment, her goal is to expand her portfolio to cover any and all persons willing to speak their own truths.
Audrey is also obsessed with her two cats, Prince & Mowgli and her new nephew, Liam.
You can connect with Audrey on: